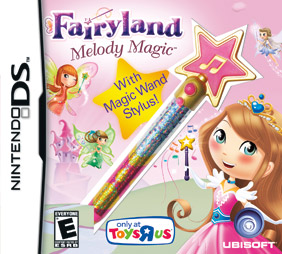 Fairyland Melody Magic
BUY NOW
OFFICIAL SITE
PLATFORM: Nintendo DSTM
RELEASE DATE: November 17, 2009

game info
Enter a world of enchantment with Fairyland Melody Magic, the first Nintendo DS game designed for girls as young as four with no reading required and a special magic wand stylus. Girls can play as a young princess and discover the magic of music in an enchanted universe as she develops music and rhythm skills. Available exclusively at Toys "R" Us this holiday.
Key Features
Magical Adventure Storyline
— Befriend three fairies, each with their own personality, look, and enchanting spells, as you help save Fairyland.
Play With the In-pack Exclusive Magic Wand Stylus
— Larger Magic Wand stylus easier to use for smaller hands.
Develop Music/Rhythm Skills through Fun Mini-Games
— Play a variety of music and rhythm mini-games to build your music/rhythm skills: Touch items on screen in time to the music, sing popular nursery rhymes back into the microphone, and draw designs on-screen to create a sparkling dance.
Customize the Princess of your Dreams with an array of beautiful dresses and sparkling accessories!
—
Developed Specially for Younger Girls
— No text: Use only your fairy friends' voices, and voice activation to guide you. Ergonomic stylus design: well-suited to smaller hands. Accessible mini-games
Fairyland Melody Magic is available exclusively at Toys "R" Us starting on November 17, 2009.
—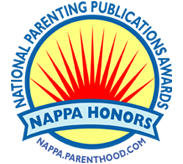 Petz Fantasy and Petz Nursery 2 are winners of the 2010 National Parenting Publication Awards!
CHECK IT OUT!
© 2009 Ubisoft Entertainment. All Rights Reserved. Fairyland: Melody Magic, Ubisoft, Ubi.com, and the Ubisoft logo are trademarks of Ubisoft Entertainment in the U.S. and/or other countries.