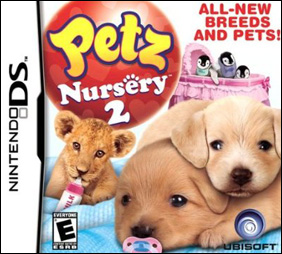 Petz Nursery 2
BUY NOW
OFFICIAL SITE
PLATFORM: Nintendo DSTM
RELEASE DATE: November 2, 2010

game info
In Ubisoft's Petz® Nursery 2, the sequel to the popular Petz Nursery videogame, players can care for a variety of all-new baby animals ranging from puppies to penguins. For the first time, players can take care of two animals at the same time, watch them play together, and even react to one another!
Key Features
Learn how to care for adorable baby animals
— Players can take care of up to 20 baby petz and help them grow. As newborns, the baby petz will need to be picked up and played with, and eventually taught to crawl. As they grow, players will teach them to walk, or play musical and matching games to make them smarter! When night comes, help them fall asleep by rocking them or singing them a lullaby.
Unlock all-new exotic baby animals
— With an even greater variety than the original Petz Nursery, there will be 22 baby petz to unlock, such as puppies, kittens, baby pandas, tigers, polar bears, piglets, penguins and more!
Care for multiple babies at the same time
— These playful and clumsy babies love to play together. Play activities with two babies or just one; but make sure you give both babies attention or one will develop faster than the other. Watch a baby penguin play with a tiger cub and see how well they get along.
Go on an online adventure with your Petz!
— In 2011, players will be able to send their grown baby petz to the Petz virtual world, Petz World, and unlock exclusive exotic animals. On Petz World, players will travel the world with their petz, go on exciting missions to save animals, and even learn about landmarks and foreign countries.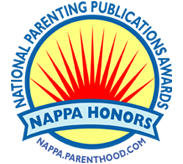 Petz Fantasy and Petz Nursery 2 are winners of the 2010 National Parenting Publication Awards!
CHECK IT OUT!
© 2010 Ubisoft Entertainment. All Rights Reserved. Petz Nursery, Ubisoft and the Ubisoft logo are trademarks of Ubisoft Entertainment in the U.S. and/or other countries.